The Angle Society is the premier study club in orthodontics. Members make large sacrifices to gain membership and participate in this elite organization. There are seven regional components within the United States. Today, the Angle Society is an international organization with approximately 13% of our members traveling from outside the United States to attend regional meetings. The Angle Society is renowned for its excellent journal, The Angle Orthodontist, and the superb Component and National Biennial meetings.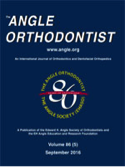 The Angle Orthodontist is published bimonthly by the E.H. Angle Education and Research Foundation. It has been published as a printed journal since 1931. In 2000, the journal launched its online digital service for current publications. In 2003, all issues from 1931 to the present were placed online with open access. The sole purpose of the journal is to provide scientific, evidence-based orthodontic education, research, and information at no charge to persons interested in orthodontics across the world.
The members of Angle Northern California welcome you to our website and invite you to explore its pages.